About Triangle Environmental
Triangle Environmental is a family-owned commercial HVAC and refrigeration contractor serving the Chicagoland area since 1983. We provide HVAC and refrigeration service, maintenance, and replacement solutions to restaurants, retail stores, movie theaters, manufacturing facilities, industrial and warehouse facilities, grocery stores, office buildings, and much more. We bring our distinguished reputation for excellent service, integrity, and an unrivaled work ethic to each and every project. If your business is in need of HVAC or refrigeration service or emergency repair, give us a call today and discover the best in the industry.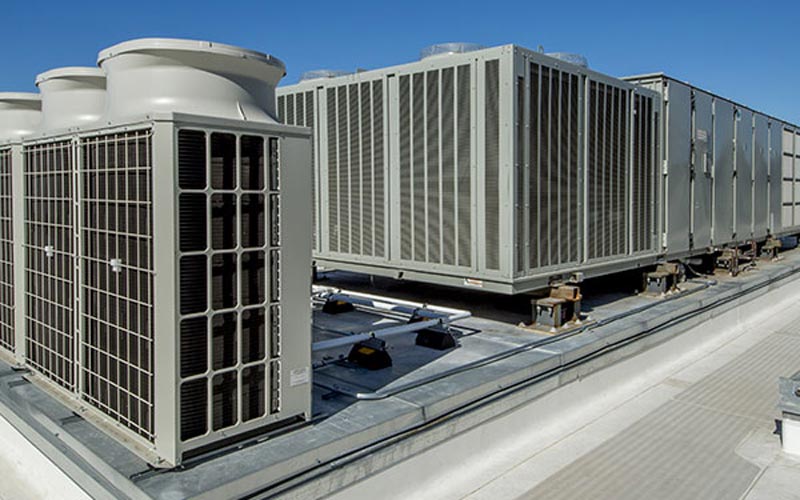 A Wide Range of HVAC and Refrigeration Solutions
For over three decades,
Triangle Environmental
has been known for the highest standard in HVAC and refrigeration solutions for the commercial sector, providing a wide variety of services to keep businesses running smoothly and comfortably. When you partner with Triangle for your facility's HVAC and refrigeration needs, you'll have our experts on hand to help you with a comprehensive range of professional HVAC and refrigeration system services.
Triangle Environmental has the knowledge and advanced industry expertise to keep your commercial HVAC system in top-notch shape. And if your system is beyond repair, you can expect the high-quality equipment replacements you would expect from a reputable HVAC company. Our HVAC services include:
Emergency Service: If you need fast, reliable HVAC emergency repair services, you can depend on our expert repair technicians to deliver results quickly, no matter how complex the issue may be. Contact us any time of the day, any day of the year, for professional HVAC repairs.
Equipment Replacement: A failure within your HVAC system can be an untimely disaster. Replacing failing units may be a more cost-effective solution when extensive, ongoing repair work doesn't seem to solve the problem.
Exhaust System Service and Repair: No matter how big your facility is, we have extensive experience providing safe, efficient, and cost-effective exhaust system services customized to your building's indoor environment.
Chiller Repair: Commercial chiller units maintain the ideal indoor environment for your customers and employees. Ensure your chiller system operates at peak performance at all times for the ultimate in indoor air comfort.
Refrigeration Service and Repair
If your facility requires commercial refrigeration systems, Triangle Environmental has spent decades helping businesses implement exceptional refrigeration systems into their operations and establish maintenance programs to maintain the integrity of their equipment. Our team of specialists has expert insight into avoiding and resolving a broad range of system issues to keep your refrigeration system just as dependable as it was brand new.
Emergency Service: Never spend lengthy times waiting for an emergency response or suffer a business loss because of a refrigeration issue. Our technicians are available around the clock to address refrigeration problems with urgency. Now that's peace of mind.
Refrigeration Service: From walk-in coolers to ice machines, our well-trained service technicians are available around the clock to keep your refrigeration system running at its optimal level.
Ice Machine Service: Our refrigeration specialists are always available to ensure your ice machines preserve their around-the-clock reliability, efficiency, and cleanliness.
Maintenance and Equipment Recycling Programs
When your business relies on around-the-clock indoor air comfort and refrigeration, gain the peace of mind knowing your systems deliver optimum performance at all times. Triangle Environmental is committed to providing the comfort and satisfaction our clients deserve to make sure your business runs as usual. Integrating a scheduled maintenance routine for your HVAC and refrigeration units is the easiest way to avoid unnecessary disruptions while extending the lifespan of critical systems you need to operate at total capacity.
HVAC Maintenance: Keep your employees and customers cozy by utilizing our expert HVAC service technicians, who can repair any HVAC issue, no matter the complexity.
Refrigeration Maintenance: Reduce the risk of refrigeration failure and prevent product loss through a recurring inspection program designed to detect issues early on and maintain your system's reliability.
Equipment Recycling: Get rid of unwanted and obsolete equipment while also caring for the environment with our HVAC and refrigeration recycling program.
The Triangle Environmental Mission
At Triangle Environmental, our goal is to offer our customers honest, professional HVAC and refrigeration work at fair prices. Providing world-class service and establishing trust with customers are major factors in today's marketplace, and clients demand and deserve the HVAC service they are paying for. Our team members at Triangle are proponents of being proactive with our customers by working with them to deliver the best possible HVAC service and maintenance to accommodate their business needs and requirements.
If you are in the Chicagoland area and need maintenance, emergency repair, or replacement solutions for your HVAC and refrigeration systems, we offer same-day service with integrity and efficiency. Contact us today and discover the best in the business.