High-Quality Rooftop Unit HVAC Service and Repair
Commercial Service and Repair by Triangle Environmental
Rooftop units, referred to as RTUs, are self-contained heating, ventilation, and air conditioning (HVAC) systems installed on the roof of commercial buildings. They are designed to provide efficient temperature control and air circulation for large spaces like offices, retail stores, and industrial facilities. RTUs are compact and easily accessible for maintenance and repairs, making them popular for commercial HVAC systems and properties. With over three decades of experience, Triangle Environmental provides high-quality rooftop unit HVAC service and repairs in the Chicagoland area.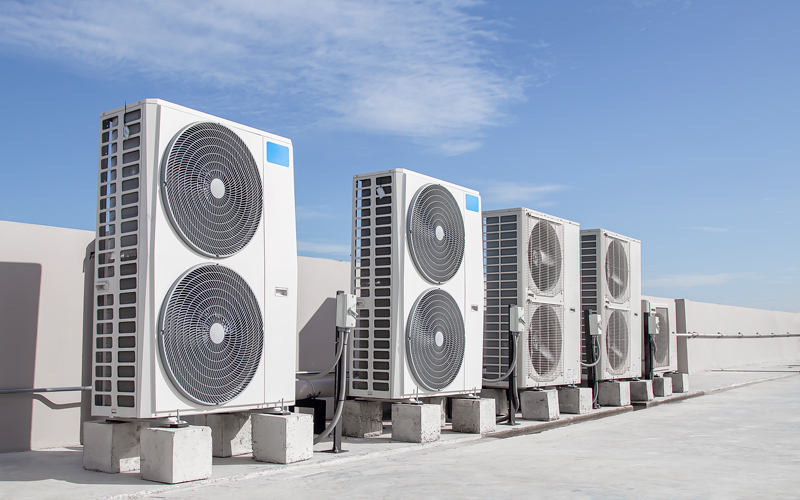 The Importance of Rooftop Unit Maintenance and Repairs
Regular maintenance and repairs are essential for rooftop units to ensure optimal performance and energy efficiency. Here's why:
Improved Energy Efficiency - Proper maintenance helps RTUs operate at peak efficiency, reducing energy consumption and lowering utility bills.
Extended Lifespan - Regular inspections and preventive maintenance can identify potential issues early on, preventing major breakdowns and extending the unit's lifespan.
Enhanced Indoor Air Quality - Clean filters and well-maintained components improve air quality by removing dust, allergens, and pollutants, creating a healthier environment for occupants.
Cost Savings - Investing in

maintenance and repairs

can prevent costly emergency breakdowns and the need for premature unit replacement, saving you money in the long run.
The Most Common Rooftop Unit Problems
Rooftop units may experience several common problems that require attention. Here are some of the most frequently encountered issues:
Airflow Issues - Obstructed or inadequate airflow can result in consistent temperature control and better ventilation.
Electrical Malfunctions - Faulty wiring, blown fuses, or tripped circuit breakers can cause an ac unit on the roof to malfunction or stop working altogether.
Refrigerant Leaks - Leaking refrigerant reduces cooling efficiency, poses environmental risks, and can lead to system damage.
Thermostat Problems - Inaccurate temperature readings, faulty sensors, or programming issues can affect the unit's ability to maintain the desired comfort level.
Fan and Motor Troubles - Damaged or malfunctioning fans and motors can cause reduced airflow, increased noise levels, and overall system inefficiency.
Compressor Failures - Compressor failures can result from electrical issues, refrigerant problems, or excessive strain on the unit, leading to a complete system breakdown.
Triangle Environmental's Industry Expertise
Our team stands out when it comes to
rooftop unit service and repair
. With more than three decades of experience, Triangle Environmental is known for providing the highest standard in rooftop unit HVAC service and repair in the Chicagoland area. When it comes to commercial services, there isn't a better choice.
Benefits of Choosing Triangle Environmental
If you are considering hiring a company for assistance with rooftop unit HVAC service and repair, consider these benefits of choosing Triangle Environmental:
Extensive Experience - Our technicians have extensive experience working with various types and brands of rooftop units, ensuring accurate diagnoses and efficient repairs.
Timely Response - We understand the urgency of HVAC issues, and our team is dedicated to providing prompt service to minimize downtime and disruptions to your business operations.
Maintenance Plans - We offer customized maintenance plans tailored to your specific needs, including regular inspections, filter replacements, and system optimizations to keep your rooftop unit in top condition.
Trusted Service - We have a strong reputation for delivering reliable and professional rooftop unit repairs. We aim to exceed your expectations and ensure complete satisfaction with every service call.
FAQs About Rooftop Unit HVAC Service and Repair
Contact Triangle Environmental Today
Whether you need regular maintenance or commercial rooftop HVAC unit repair, Triangle Environmental can help. Our team provides a high-quality service to businesses that need a trusted advisor for their rooftop unit HVAC needs.
Contact us today for more information
.