HVAC Maintenance Programs in Chicagoland
Heating, Air Conditioning & Refrigeration Maintenance Programs
Chicagoland HVAC-Refrigeration Maintenance Programs Done Right
Our commercial HVAC-Refrigeration maintenance program is a comprehensive program designed to help ensure that your business's commercial HVAC systems and refrigeration equipment function at optimum efficiency. Partnering with Triangle Environmental means you will always be getting the highest quality service at the best possible price. Instead of relying on repairs whenever they come up, a reliable HVAC-Refrigeration maintenance program can help facilitate normal servicing so that your units and components are always functioning properly. Our experience as a company means that our maintenance programs are always top level, from minor AC problem detection to refrigeration equipment maintenance and so much more.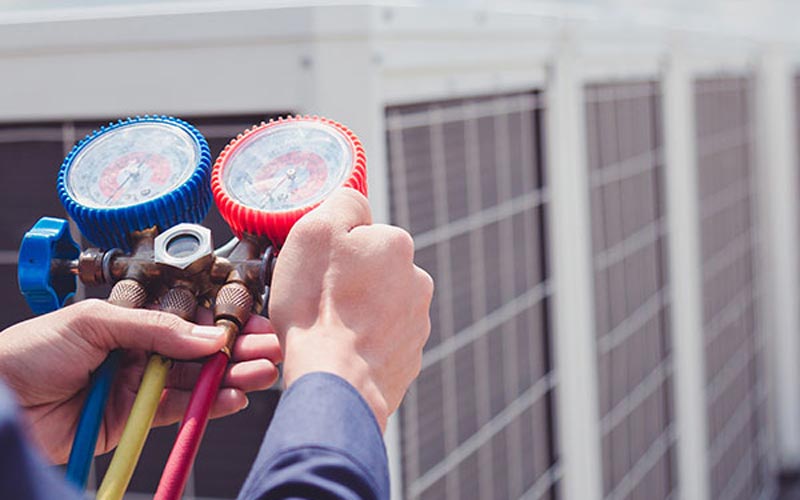 Lower HVAC Monthly Costs – And More!
There are many benefits to getting regularly scheduled maintenance programs through Triangle Environmental. Businesses of all types have come to rely on us for a variety of services.
Benefits From Using Our HVAC-Refrigeration Maintenance Programs Are:
HVAC-Refrigeration maintenance reduces equipment failure and emergency service calls which would increase your operating expenses.
Heating/Air Conditioning systems and refrigeration equipment that receive regular maintenance will lower your energy costs by 25% on average
Regular maintenance will extend the life of your HVAC systems and refrigeration equipment.
With regular scheduled maintenance Triangle Environmental technicians can detect minor problems before they develop into a major expensive equipment failure.
Our use and knowledge of the latest technology and equipment for our maintenance programs means you are always getting the best with Triangle Environmental.
Our Commitment To Our Customers
Triangle Environmental's HVAC maintenance programs are designed to your specific business needs and budget requirements so that you only pay for what you need, and nothing you don't!
Triangle recommends quarterly HVAC maintenance for optimum performance.
Annual & Semi Annual HVAC maintenance programs are available.
Custom HVAC maintenance programs are available based on your business needs and requirements.
Pricing structures differ depending on maintenance programs selected.
Call for more details!
Contact Joan (jholland@trianglehvac.biz) for additional information or call our office at 815-439-0300.
Whether you own or manage a restaurant, office building, movie theatre, or any kind of commercial space, these systems are essential to being successful. Triangle Environmental always aims for the highest level of detail-oriented work at the most affordable rates, and our HVAC-Refrigeration maintenance program does just that. If you are a small business owner with an HVAC system and want to learn more, do not hesitate to call. A member of our team will be happy to assist you in providing more information about the many benefits of a regular maintenance program with Triangle Environmental.
In addition, Triangle Environmental is confident that our maintenance program is vital for businesses of all sizes to adequately help their facilities function. Our professionalism in our business is one of the cornerstones of what makes Triangle Environmental a leader in the Chicagoland HVAC repair industry and we take immense pride in our work. We aim to foster close relationships with all of our business clients because we know the importance of keeping HVAC and refrigeration units running properly.