HVAC Maintenance in Chicagoland
Commercial HVAC Maintenance in Chicagoland
We Are Chicagoland's Commercial HVAC Experts
If you are a business owner, property owner, or landlord, you are responsible for every aspect of your building. When problems arise, there are scores of people counting on you to restore order promptly. Triangle Environmental provides repairs, replacements, and installations for customers throughout the Chicago Metro area. We have been a leading commercial HVAC services provider in the region since 1983, so you can rest assured we have remedied a wide range of issues from all the top manufacturers. Call us today to learn more about our commercial HVAC maintenance expertise and how we can help you.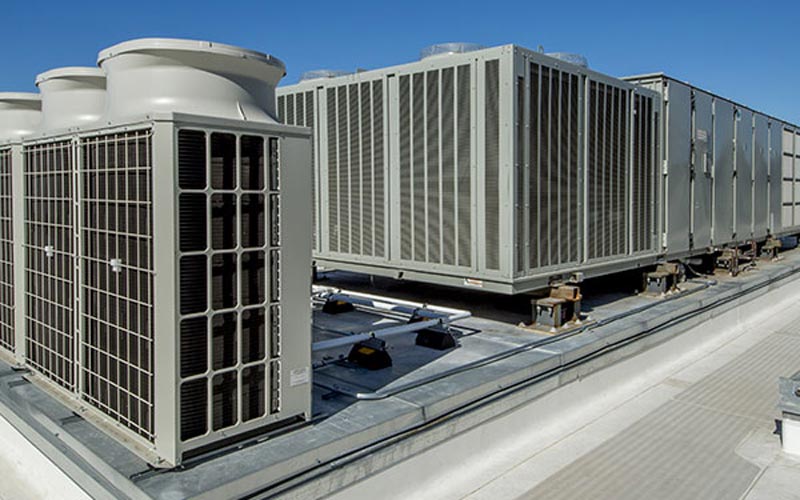 Our Comprehensive Commercial HVAC Maintenance Services
The Windy City is a great place to live and work. There are endless professional opportunities and it is never hard to scratch your social itch. But the temperature swings throughout the year can force your HVAC system to work overtime. Warm summer days when the Cubs or White Sox play ball are a far cry from the frigid temperatures coming off the lake during the dead of winter. But before either season, Triangle Environmental recommends commercial HVAC maintenance to ensure your system is ready for the extremes. Our technicians will perform the following tasks and more depending on the time of year:
Commercial AC Maintenance
Replace filters
Check belts and pulleys
Clean evaporator and condenser coils
Check refrigerant charge
Clear drain lines and pans
Lubricate moving parts
Commercial Heating Maintenance
Replace filters
Check electrical connections
Adjust fan and blower motor if needed
Inspect ignition and burner
Knowing When to Schedule Commercial HVAC Maintenance
We recommend establishing a routine commercial HVAC maintenance schedule. You should never wait until a problem arises before seeking services. You see a doctor for annual physicals to ensure your health. You should take a similar approach with your HVAC system. A good rule of thumb is to schedule maintenance in early spring and early autumn. It is most convenient to
complete repairs
when the weather is pleasant. But in addition to routine seasonal maintenance, several factors may affect how often you should request service. Older HVAC systems generally require more attention than newer models. You may also need more frequent maintenance if your building's air causes your filters to become dirty quickly.
Benefits of Commercial HVAC Maintenance Services
Regular commercial HVAC maintenance will ensure that your system works efficiently year-round. Triangle Environmental can help you avoid costly repairs and maintain comfort. Benefits of our commercial HVAC maintenance services include:
Energy Conservation: A properly functioning system will work efficiently and keep your energy expenses low.
Breakdown Prevention: Regular repairs and maintenance will correct minor problems before they worsen.
Longevity: By keeping your HVAC unit clean and in good working order, you will extend its lifespan.
Healthy Environment: The efficiency of your HVAC system can positively impact the health of your customers, employees, or tenants.
Why You Should Choose Triangle Environmental
Triangle Environmental has spent been servicing commercial HVAC systems since 1983. Our professional contractors are licensed and certified to perform comprehensive maintenance and
HVAC repair services
. We will carefully inspect your unit to determine the best course of action, and we will communicate that directly to you. We promise honest, dependable work at fair prices. This approach has helped us earn a reputation for being among
Chicagoland's leading commercial HVAC experts
.
Contact Triangle Environmental Today
Maintaining a comfortable environment inside your retail establishment, restaurant, office complex, or housing development is essential to attracting and retaining customers and tenants. Triangle Environmental can help facilitate such a setting with high-quality commercial HVAC maintenance services in the Chicago Metro area. Whether you need minor repairs or seasonal maintenance, we are ready to help. We even offer
24/7 emergency services
in case you cannot wait until the next morning.
Contact us today
.