Commercial Fan Service in Chicagoland, IL
We Inspect, Repair, and Replace Commercial Fans
The large exhaust or supply fans on your commercial property serve a crucial purpose. They protect employees and customers from health and safety issues, ensure proper air filtration and circulation, and mitigate the risk of exposure to dangerous toxins, chemicals, and contaminants. At Triangle Environmental, we know what a hassle it is when there is a problem with a large commercial fan. We offer fast, reliable inspections, maintenance, repairs, and installations of commercial fans in the Chicagoland area. When we complete an inspection, we evaluate all elements of your fan and duct system to ensure it operates safely, efficiently, and effectively. Call us today to schedule a consultation for your commercial or industrial fans.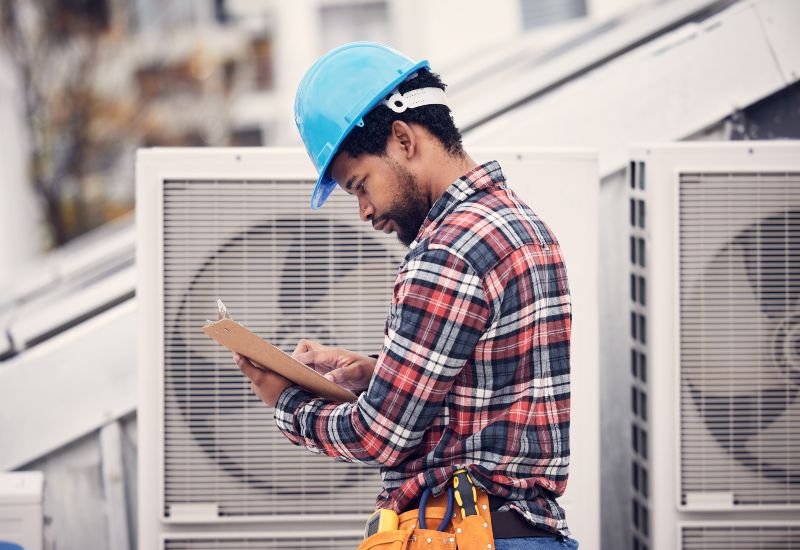 Importance of Commercial Exhaust Fans
Proper ventilation is crucial for any commercial or industrial space, regardless of your industry. Sufficient airflow and mitigation of contaminants will keep your employees safe, healthy, and productive. Installing commercial exhaust fans will also ensure you're in compliance with all OSHA regulations and building codes. A well-designed ventilation system will improve the indoor air quality on your property and mitigate the risk of harmful airborne chemicals. Installing exhaust fans in commercial properties will also extend the lifespan of your heating and cooling systems, air vents, and ductwork and protect your building from damage.
Our Process for Installing Commercial Exhaust Fans
We will complete a site inspection before our team of experienced technicians installs an exhaust fan on a commercial property. We will assess the space, determine proper placement for all fans, evaluate the ductwork and electrical systems, and discuss necessary permitting. We can then offer you an estimate for the commercial ventilation fan installation cost and schedule a date and time for service. On the day of installation, we will:
Assess and confirm the plans and specifications for the placement of the exhaust fan and other components.
Assess the rooftop package and housing.
Turn off electricity to the area in which installation will occur.
Cut a hole in the roof to support the fan curb.
Install the insulated supply fan curb.
Install all exhaust ductwork to the location of the exhaust fan installation site.
Create an opening in the drywall to facilitate the exhaust fan installation.
Place the fan in place and secure it.
Connect the exhaust fan motor to your electrical power source.
Ensure the wheel rotates freely.
Fasten the exhaust fan joint.
Tighten all ties.
Install the fan motor dome.
Reconnect the electricity.
Power up the fan and ensure it functions properly.
Complete any necessary caulking and sealing.
Commercial and Industrial Fan Maintenance and Repair
In addition to installing commercial and industrial fans, we also offer fan repair and maintenance. We can work with all types of commercial ventilation and exhaust fans, including:
Dust collector systems of all types, such as portable, booth, cartridge, shaker, weld, and fume.
Blowers.
Roof and wall exhaust fans.
Filtered exhaust or supply fans.
Commercial exhaust panel fans.
We carry replacement parts on hand for most major brands and manufacturers. The most common commercial fan repairs we complete are:
Fan bearing failures.
Worn out, damaged, or broken belts.
Motor failure.
Noisy fans.
Fans that won't turn on.
Fans that aren't removing heat, dust, fumes, or other contaminants from the area.
We recommend quarterly or seasonal commercial fan maintenance, which includes:
Checking and cleaning all fan assemblies.
Lubricating all bearings.
Checking and adjusting belts and sheaves.
Tightening all bolts, nuts, screws, and mounting hardware.
Checking motor volts and amps.
Checking motor mounts and vibration pads.
Assessing fan operation.
Evaluating the structural integrity of the assembly system.
Checking blade pitch and/or rotary union operation.
Checking contractors and relays.
Signs You Need Commercial Ventilation Fan Replacement
Like any other mechanical or electrical system on your commercial property, your ventilation and exhaust fans will eventually experience wear and tear. When this happens, their performance, safety, and efficiency may be compromised. If there is an issue with your commercial fan, you should contact our team immediately for an inspection. Delaying repairs or replacement may affect the integrity of the system or the health and safety of your employees. Call us today if you notice any of these signs you need commercial fan replacement:
The fan is louder than usual, making rattling, banging, popping, or whistling sounds.
The fan makes a burning odor, or you smell a fishy odor when it's in operation.
Humidity levels have significantly increased.
The fan won't turn on, or turns off shortly after turning on.
Touching or turning the fan on causes a spark, arc, or electrical shock.
The switch or outlet associated with the fan is scorched or damaged.
The fan is not sufficiently removing dust, odors, fumes, or heat.
Indoor air quality has decreased.
Your fan is over 10 years old.
You have scheduled repairs more than three times in the past 12 months.
There is a buildup of grease, dirt, dust, or other contaminants on or around the fan.
The fan is frequently out of commission.
The fan should automatically start up when it detects certain contaminants but doesn't.
The airflow is excessive or too weak.
Using the fan causes a power outage.
The fan vibrates excessively.
Request Service or Replacement of Large Commercial Fans
Call us today or contact us online to request service, maintenance, or replacement of large commercial fans in the Chicagoland area. One of our experienced technicians will visit your commercial property or business and comprehensively evaluate and inspect your commercial fan systems. We can quickly identify and diagnose problems of all sizes and carry the tools and replacement parts needed to complete repairs quickly and correctly. We work efficiently to determine whether choosing commercial fan repair or replacement would be more cost-effective.