HVAC Equipment Replacement Solutions in Chicagoland
Explore Our Equipment Replacement Services
The integrity of your heating and air conditioning system is crucial to the indoor air comfort of your employees and customers and the productivity of your business operations. Regardless of your facility's size or the complexity of your heating and air conditioning system, Chicagoland's Triangle Environmental has helped countless commercial customers keep their HVAC equipment in optimal working order. When the condition of your HVAC system is beyond normal maintenance and repair, we offer dependable HVAC equipment replacement solutions to keep energy costs from rising and to ensure your building stays comfortable. Learn more about our HVAC equipment replacement services today.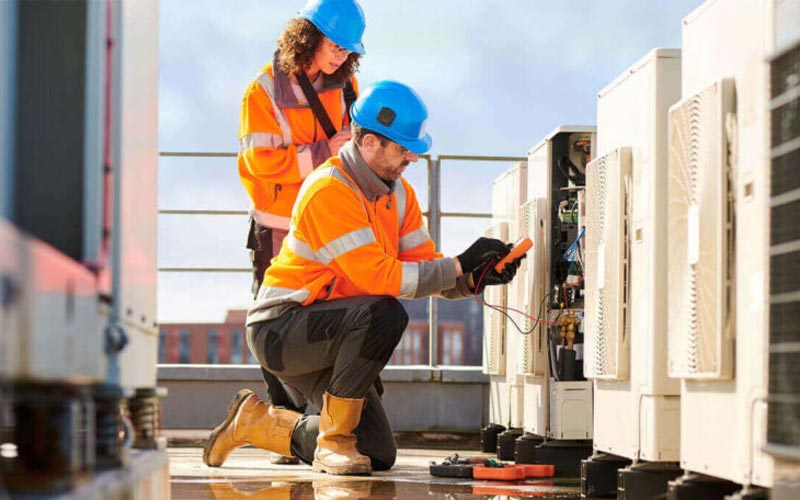 Equipment Replacement Services We Offer
Exhaust System Replacement
Air Handler Replacement
Know When to Replace Your HVAC Equipment
Our team of HVAC technicians is always available to make sure your heating stays warm, and your air conditioning stays cool, but there are occasions when your HVAC system shows warning signs signaling it is time to consider replacing your system. When preventative maintenance isn't proving to be effective in optimizing equipment performance and repairs become frequent and costly, Triangle Environmental can provide you with an equipment replacement plan to restore consistency to your facility's indoor air comfort. Here are some common indicators alerting you to seek HVAC equipment replacement:
An Aging HVAC System – A heating and air conditioning unit that reaches 15-20 years old has usually experienced enough operational wear and tear to create less performance than when it was new. Replacing your old unit with a newer model will produce the heating and cooling performance you need while providing much more energy efficiency.
An Increase in Energy Costs – If your utility costs have been on the rise, it's probably a good indicator your HVAC system is overworked and in need of replacement. A heating and cooling unit that's struggling to regulate indoor temperatures runs longer and more frequently, which will have an adverse effect on your energy bills.
Temperature Fluctuations – Inconsistent temperatures throughout various areas of your facility will cause your system to work much harder. When there are fluctuations in temperature from one location to another, it's a good signal that there's an existing flaw in your HVAC system that maintenance or repair may not be able to fix.
Inaccurate Temperature Readouts – When your HVAC unit's thermometer indicates a temperature that feels inaccurate, it's more than likely because your equipment has a hard time keeping up with your building's cooling needs. If the indoor environment feels warmer than what your HVAC unit indicates, it might be time to seek a system replacement.
Trust Our Expert Team of HVAC Specialists
Triangle Environmental's
highly skilled team of HVAC service specialists receives continuous training that keeps them up to date in the heating and cooling industry. You can trust our advanced expertise and friendly, professional service to satisfy your
HVAC requirements
. If your heating and cooling unit is beyond maintenance or repair and in need of replacement, we have the solutions and state-of-the-art equipment you and your facility's occupants deserve to stay cool in the summer and warm in the winter. We are available 24 hours a day for same-day service and are ready to take on tasks, both large and small, at a moment's notice. To learn more about our dependable HVAC equipment replacement services,
get in touch
with the experts at Triangle Environmental and discover the ultimate in indoor air comfort all year round.