Refrigeration Service in Chicagoland
Commercial Refrigeration in Chicago, IL
We Offer Commercial Refrigeration Expertise
Businesses throughout the Chicago Metro area rely on Triangle Environmental's commercial refrigeration expertise. Our family-owned and -operated company has been serving the Windy City for nearly four decades, and we are eager to help your company thrive. Our commercial refrigeration contractors promise honest, thorough services at affordable prices. We take the time to get to know each of our clients and their needs so that we can provide complete satisfaction. Among the businesses we serve are restaurants, movie theaters, grocery stores, and hospitality providers. If you need commercial refrigeration inspections, repairs, or replacements, call us today to discuss how we can best serve you.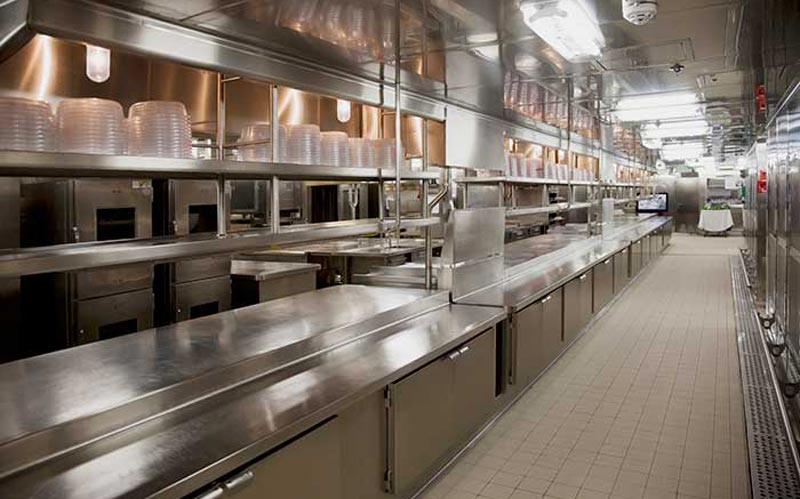 Types of Commercial Refrigeration Units We Service
Restaurant owners rely on Triangle Environmental to keep their walk-in freezers working optimally, while doctors' offices depend on us for repairs to medical refrigeration tools. Additionally, business complexes utilize our services to keep their cafeterias running smoothly. The types of commercial refrigeration units we service in Chicago, IL include:
Reach-in coolers and freezers
Walk-in coolers and freezers
Glycol refrigeration
Ice machines
Prep tables
Medical chillers
Importance of Commercial Refrigeration Services
Commercial refrigeration systems are essential elements of many businesses. Restaurants and grocery stores need them to keep their food fresh. Medical facilities need them to store vital organs. Regardless of your reason for using a commercial refrigeration unit, there is no room for error. The dependability of your machine directly correlates with safety and budgetary concerns. Therefore, you need reliable commercial refrigeration specialists from Triangle Environmental ready to help at a moment's notice. We recognize the time-sensitive nature of commercial refrigeration repairs and maintenance, so we offer 24/7 services throughout the Chicago Metro area. Reach out to our technicians at any time of the day or night.
Whether to Repair or Replace Your Refrigeration Unit
Our commercial refrigeration contractors in Chicago can help you determine whether to repair or replace your refrigeration unit. We will never point you toward a solution that you do not need, but it is important to recognize when your refrigeration system is losing its efficiency. If you have had your refrigerator for more than 10 years, we recommend paying close attention to its performance. After a decade, problems may start to arise. We can inspect your unit to make minor repairs before the issues worsen. Signs you may need commercial refrigeration maintenance include:
Ice build-up inside your freezer or on the outside of the unit
Inconsistent temperatures
Condensation on your unit's exterior
Damaged seals on the doors of your refrigerator
Leaks behind or at the base of your unit
Higher energy bills despite regular use
Comprehensive Commercial Refrigeration Services
The team of commercial refrigeration experts at Triangle Environmental provides comprehensive commercial refrigeration services. Though you may feel inclined to attempt minor fixes on your own, we highly recommend enlisting the help of a certified technician. We will address your problem correctly and efficiently. Our commercial refrigeration specialties are:
Inspections: We will thoroughly evaluate your system to make sure it is working properly.
Installation: Whether you are opening a new location for your organization or need to replace an unreliable refrigerator, we will install your unit for you.
Repairs: You can count on us for emergency repairs or routine parts replacement services.
Cleaning and Maintenance: We can extend the lifespan of your commercial refrigerator by performing regular cleaning and maintenance.
Why You Should Choose Triangle Environmental
Triangle Environmental has been a leading provider of commercial refrigeration services in Chicago, IL since 1983. Our extensive experience has helped us become proficient in all types of refrigeration systems from the industry's leading manufacturers. Our customers remain loyal because they know they can expect friendly service and exceptional results from every project. We even offer regular
maintenance programs
to reduce energy costs and minimize the risk of emergency repairs.
Contact Triangle Environmental Today
Keeping your commercial refrigeration system running is critical to your business's efficiency, safety, and profitability. Because commercial refrigerators are such complicated systems, you need to partner with a specialist capable of providing repairs and replacements. Triangle Environmental is proud to serve that role for business owners throughout Chicagoland.
Contact us today
to schedule services or learn more about our maintenance programs.