Commercial Air Conditioning Repair in Chicagoland, IL
24-Hour Commercial Air Conditioning Repair
When the air conditioner goes out at your business or commercial property, you don't have time to call around to find someone who will show up that same day. Triangle Environmental offers fast, reliable emergency repair services for commercial air conditioners and cooling systems. You can call us at any time of the day, any day of the year, for 24-hour commercial air conditioning repair service in the Chicagoland area. We have decades of experience and are one of the area's most trusted air condition commercial repair companies. We maintain high standards, work tirelessly to ensure customer satisfaction, and have extensive training and experience. We offer a comprehensive range of commercial HVAC and refrigeration services. Call us today to schedule a consultation for AC repair for your business.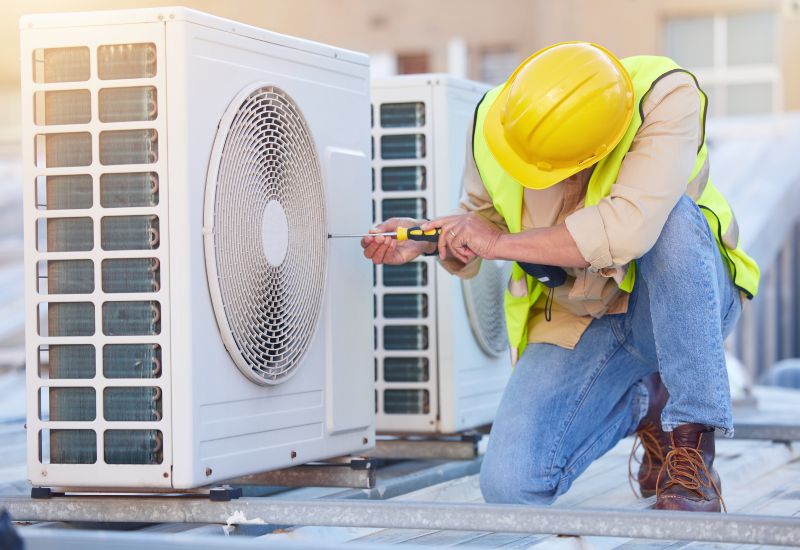 Types of Commercial Air Conditioners We Service
We have experience inspecting, maintaining, repairing, and replacing all commercial HVAC system makes, models, and manufacturers. We carry replacement parts on hand for many common, major brands. Call our experienced HVAC technicians today if you need commercial air conditioning repair or service for any of these types of systems:
Split systems and mini-split systems.
Packaged systems.
Ductless mini-split systems.
Evaporative cooler systems.
Window air conditioning systems.
Floor model systems.
Chillers, including centrifugal chillers, reciprocating chillers, process chillers, and water and air-cooled chillers.
Air handlers.
Rooftop units.
Signs Your Air Conditioning Needs Commercial Repair
You should call one of our professional technicians when you notice warning signs of a problem with your commercial AC unit. We offer repair and can quickly assess your system, diagnose the problem, and determine the most efficient solution. Call us today if you see any of these signs your air conditioning needs commercial repair:
You can't maintain a comfortable temperature in the building or certain parts of the building.
Your energy bills have suddenly increased with no increase in usage.
Your air conditioning system needs frequent repairs or maintenance.
Your system has a freon leak.
There are strange, loud noises coming from the unit.
Hot air or no air is coming from the vents.
The vents have a very weak airflow.
You smell a burning odor when the AC unit is running.
The unit rapidly cycles on and off.
The unit never stops running, even when it reaches the desired temperature.
The unit keeps turning off.
There is mold around the AC unit.
The humidity levels on the property are very high or are steadily increasing.
The system is over 10 years old.
Signs Your Commercial AC Needs Replacement
Even with regular maintenance and professional repairs, your commercial AC system will eventually need to be replaced. Most systems last between 10-12 years. Certain factors can lower the lifespan of your system, including poor or no maintenance, faulty repairs, unskilled installation, extreme temperatures, and extreme weather. If you notice any of these signs your commercial AC needs to be replaced, call our team:
Warm air is coming from the vents.
The thermostat reading does not affect the AC's performance.
You have scheduled more than three repair or maintenance visits in a year.
The unit is over 10 years old.
The unit makes terrible noises or smells strange when running.
You see signs of leaking fluids.
The unit is visibly damaged.
The building is unbearably warm.
The unit won't stop running.
Your electric bills are astronomical.
The air quality in the building has taken a sharp decline.
The unit is not energy-efficient or eco-friendly.
Benefits of Commercial Air Conditioner Replacement
As your AC unit gets older, it experiences wear and tear. Over time, this affects the efficiency of the system. The building will take much longer to reach a comfortable temperature, and the AC unit will need to work harder and harder to cool the building. This will result in higher energy bills, poor energy efficiency, poor temperature control, and more frequent breakdowns. The best way to prolong the lifespan of your commercial cooling system is to schedule annual maintenance, routine checkups, and professional repairs. When you notice a significant decrease in efficiency, call our experienced technicians to inspect your system. We can give our professional recommendation as to whether you need commercial AC replacement or repairs. Replacing your unit will:
Reduce your operating costs.
Improve indoor air quality.
Improve health and comfort.
Make maintenance easier and less expensive.
Reduce the risk of inconvenient breakdowns.
Maintain a more environmentally friendly workspace.
Schedule Local Commercial Air Conditioning Repair
If you're ready to schedule local commercial air conditioning repair in the Chicagoland area, call us today at Triangle Environmental. We are a family-owned commercial HVAC and refrigeration company serving the community since 1983. We offer HVAC and refrigeration services to local businesses, including restaurants, movie theaters, retail stores, medical facilities, manufacturing facilities, industrial and warehouse facilities, office buildings, grocery stores, schools, and more. Call us today or complete to request an estimate.