Commercial Exhaust System Service in Chicagoland
Chicagoland's Trusted Exhaust System Solution
Whether your commercial space is a small location or an entire shopping center, Triangle Environmental can provide expert solutions for your commercial exhaust system needs. We are Chicagoland's premier HVAC and refrigeration services contractor providing professional hearing, cooling, and refrigeration system solutions to the commercial sector since 1983. We understand that a well-functioning exhaust system is a critical element to having a business that operations effectively. Your employees and customers will appreciate the difference a well-ventilated building can create. Explore our exhaust system maintenance and repair services and let us optimize the ventilation of your commercial space.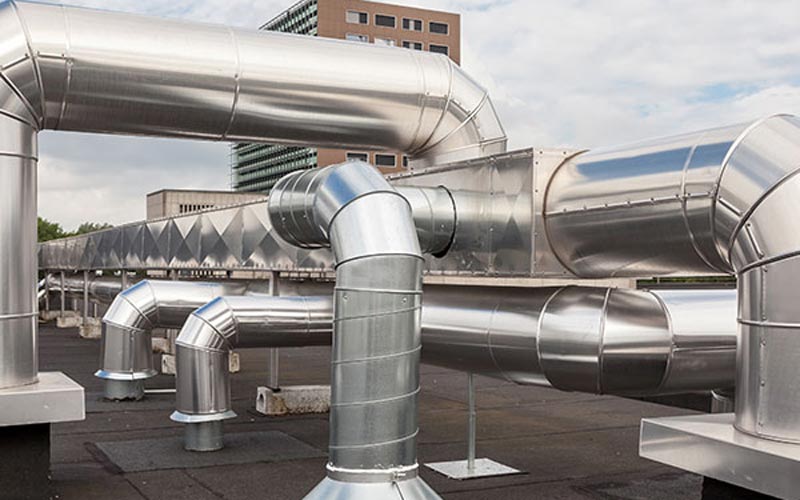 Dependable Services for Your Commercial Equipment
Choose Triangle Environmental for All Your HVAC Needs
Our exhaust system contractors are experienced and offer an accurate diagnosis of any existing problems within your exhaust system. When you rely on Triangle Environmental's personalized solutions to your property and equipment, you'll be providing high-quality services for a variety of commercial equipment, including:
Air Handlers – Air handling units connect to your HVAC system's ductwork and serve the essential purpose of supplying the indoor environment with cleaned and either heated or cooled air from outdoors. Ensure your air handler maintains performance and the capacity to properly intake outside air with efficiency.
Exhaust Fans – An exhaust fan adds a critical function to your HVAC system by removing excess moisture, unwanted odors, chemical fumes, and other air contaminant buildups from a particular indoor area. Maintain optimal comfort and air quality in key areas of your facility with a well-functioning exhaust fan.
Make-Up Air Units – A primary mechanical function of a heating and cooling system is continuously replenishing old, exhausted air with new and suitably-conditioned air. Make-up air units draw and filter outdoor air into the indoor environment to replace the air that has been removed by exhaust fans.
Do you need more than a standard exhaust system? As HVAC and refrigeration professionals, we are extensively trained to service commercial spaces such as restaurant kitchens, manufacturing plants, warehouse facilities, grocery stores, and office buildings and can help you with the complete design and installation of your building's exhaust system. Even if you have an exhaust system in place, we can make sure it operates efficiently and is safer than ever. Whether you have exhaust fans that are not adequately disposing of fumes or a make-up air unit that is inefficient, the expert team at Triangle Environmental will find the best, most cost-effective solution.
When your commercial space demands suitable, healthy indoor air all year round, there's no better decision than enlisting the HVAC services of Triangle Environmental. We are the experts at providing innovative solutions for a wide variety of heating, cooling, and ventilation needs and have helped countless commercial customers maintain optimal indoor air quality for over 40 years. As a leader in the heating, cooling, ventilation, and refrigeration industry, we have an extensively trained and highly experienced team of technicians available around the clock to perform same-day service for installations, preventative maintenance, and emergency repairs on a wide range of HVAC and refrigeration equipment.
We are dedicated to your complete satisfaction by delivering exceptional results along with the world-class customer service you expect. Get in touch with us today and learn more about exhaust system service and repair from Triangle Environmental.