Walk-In Cooler Repair & Installation in Chicagoland
In addition to providing comprehensive heating and air conditioning services, Triangle Environmental offers walk-in cooler repair and installation services in Chicago, IL. It is necessary to keep your walk-in cooler in tip-top shape to ensure that your products stay fresh and safe for as long as possible. It is also vital that you have our professionals install a new or replacement walk-in cooler to ensure that it is installed properly. With our professional installation services, we can guarantee that your walk-in cooler will be up and running in no time. Our walk-in cooler repair and installation services are comprehensive, so you don't need to worry about anything. From minor repairs to complete replacement systems, we have got you and your cooler needs covered.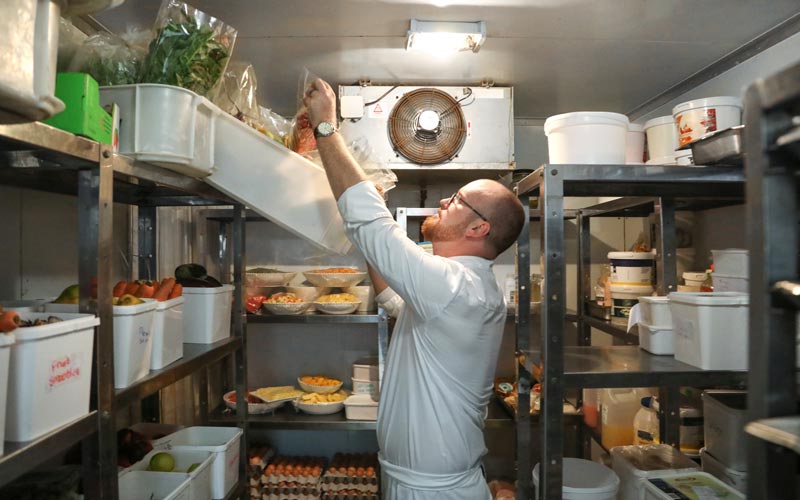 Fast and Easy Walk-In Cooler Repair Services
Our team of experts specializes in repairing walk-in coolers for commercial businesses throughout the area. We can repair water leaks and air leaks that are present, and we can also evaluate your walk-in cooler for other damage. If your walk-in cooler is making strange noises that may indicate an issue, our team is available to come and check it out and suggest the necessary repairs. If your cooler does not seem to be regulating the appropriate temperature, our professionals will inspect your system and identify the cause and then repair it accordingly. Our walk-in cooler repair services are vital to keeping your products fresh and safe for use. Don't let your cooler get out of whack. If you suspect that there is an issue with your walk-in cooler, call our team today, and we will come and fix it quickly.
Dependable Walk-In Cooler Installation
Are you opening up a new business that needs a walk-in cooler? Does your existing walk-in cooler need to be replaced? Our team provides dependable walk-in cooler installations so that you can get the new cooler you need to keep your business up and running. Professional walk-in cooler installation is vital to the success of your cooler. With our services, you will be at peace of mind knowing that your new cooler has been installed correctly and safely. You will be able to be confident in its functionality and the fact that it meets industry standards. We provide a variety of walk-in coolers for you to choose from to ensure that your commercial needs are met. Proper installation of your cooler is crucial to making sure that it runs properly and safely. That is why our professionals stay available to complete the job.
Call Our Walk-In Cooler Experts Today
Whether your existing cooler needs repairs or you need a brand new walk-in cooler, our team of experts has you covered. We know how important it is to keep your business up and running, which is why we provide fast, reliable, and comprehensive walk-in cooler repair and installation services in Chicago, IL and throughout the surrounding areas. Our team works hard to ensure that you have access to the services you need. We want you to be successful, which is why we work quickly to install and repair your walk-in coolers. Don't let your products go to waste, keep them cool with a new walk-in cooler installation or ensure that your cooler is functioning properly with our repair services. Reach out to us today to schedule a repair or installation service with our professionals.