Commercial Duct Repair and Replacement in Chicagoland, IL
Trust the Professionals for Commercial Duct Repair and Maintenance
Scheduling regular HVAC maintenance for your business or commercial property will reduce the risk of breakdowns and other problems. Routine air duct repair and replacement, along with air duct maintenance, will also maintain safe indoor air quality. At Triangle Environmental, we specialize in commercial duct repair and maintenance in the Chicagoland area. If you have noticed changes in your commercial HVAC system's performance, efficiency, or quality, call us today for air duct replacement, repair, or cleaning.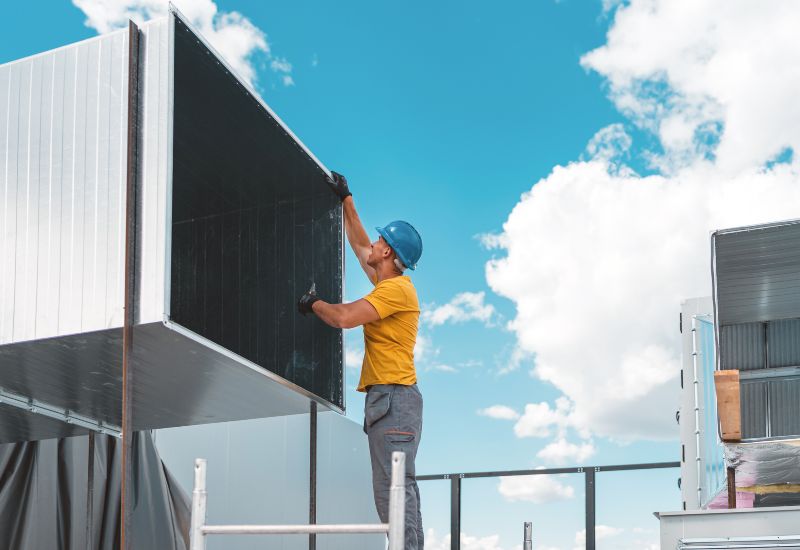 Why Commercial Air Duct Maintenance Is Essential
Commercial air duct maintenance includes preventive services like inspections, air duct cleaning, replacing damaged or worn-out parts, and routine repairs. These services will save you money in the long term, as they reduce the risk of HVAC emergencies. Call us to schedule annual or seasonal commercial air duct maintenance, and you'll notice these benefits:
Fewer allergens.
Better employee physical and mental health.
Extended lifespan of your HVAC system.
Increased HVAC efficiency.
Reduced energy bills.
Mold and mildew remediation.
Reduced risk of heating and cooling outages.
Reduced risk of HVAC emergencies.
Elimination of indoor odors.
Pest and animal mitigation.
Fewer airborne pathogens.
Signs Your Commercial AC Systems Need Duct Repair
Knowing the warning signs that your commercial AC system needs duct repair will help us solve the problem before it gets bigger - and more expensive. Without attention, air duct issues will get worse and can affect the performance and efficiency of your commercial HVAC system. Problems like dirt, dust, allergens, mold, mildew, dead insects or rodents, and other contaminants will enter the air supply and can affect the health of employees and guests. Call us today to schedule duct repair and replacement if you notice any of these signs:
Changes in the temperature from room to room or area to area.
Visible dust, debris, or other contamination on or inside the vents and ducts.
Strange noises like popping, whistling, banging, or booming coming from your HVAC system.
Weak airflow from vents.
The smell of mold or mildew from vents or ducts.
Signs of insects or other pests.
Increased energy bills for no reason.
Ductwork looks visibly old, damaged, or degraded.
Ductwork is tangled.
Ductwork is over 15 years old.
Increase in allergy or respiratory symptoms among staff.
Layers of dust in parts of the office or building.
The filters clog up much faster.
Importance of Regular Air Duct Inspections for Businesses
A neglected air duct system is much more likely to develop problems that worsen over time. Chicago's high winds and storms can increase the levels of dust and dirt in commercial air ducts. The moisture and humidity are also the perfect breeding ground for mold and mildew, and can attract rodents. Being proactive about dust, dirt, and allergen control has a significant positive impact on your employees' safety, comfort, productivity, and health. During our air duct inspections, we will check for the following issues so we can solve them before they get more complex and expensive:
Damage and wear and tear.
Warping, bending, or tangling.
Inadequate insulation.
Air leaks.
Tears, holes, or ripped seams.
Fallen or broken ducts.
Signs of contamination from mold or mildew.
Signs of pest or rodent infestations.
Signs of wet areas, dampness, or an increase in humidity.
Blockages.
Dirt and debris buildup.
Why Choose Triangle Environmental for Air Duct Replacement
At Triangle Environmental, we have been serving the Chicagoland area since 1983. We're a family-owned business, and we treat our customers like they are family members. We work closely with business and property owners in the community to ensure the safety, performance, and efficiency of their commercial HVAC and refrigeration systems. Each of our technicians has years of experience and can handle various issues, from minor problems to entire system replacements. We offer 24-hour emergency HVAC services, repairs, and equipment replacement. We also offer emergency refrigeration service, ice machine and walk-in cooler/freezer repair and replacement, boiler and chiller service, indoor air quality improvement services, and energy conservation services. We have a reputation for quality work, excellent customer service, integrity and honesty, and an unparalleled work ethic.
Schedule Duct System Replacement or Repair
Call us today or fill out our online contact form to make an appointment for air duct maintenance, air duct repair, or AC air duct replacement in the Chicagoland area. We will send an experienced technician to your business for a thorough air duct inspection. We will review the results with you, explaining any air leaks, contamination, damage, or other problems. We will then offer our professional recommendation for repair, maintenance, or replacement of commercial air duct systems.