High-Quality Unit Heater Service and Repair
Commercial Expertise from Triangle Environmental
Unit heaters are essential heating systems used in various settings, including commercial spaces. These heating units are typically installed on walls or ceilings and provide localized heat for specific areas. Whether your property has a heater and air conditioner window unit or a wall AC heater unit, regular service and repair are crucial to ensure optimal performance and longevity. Triangle Environmental specializes in high-quality unit heater service and repair throughout the Chicagoland area. Their team of experts has more than three decades of experience serving commercial properties of all sizes.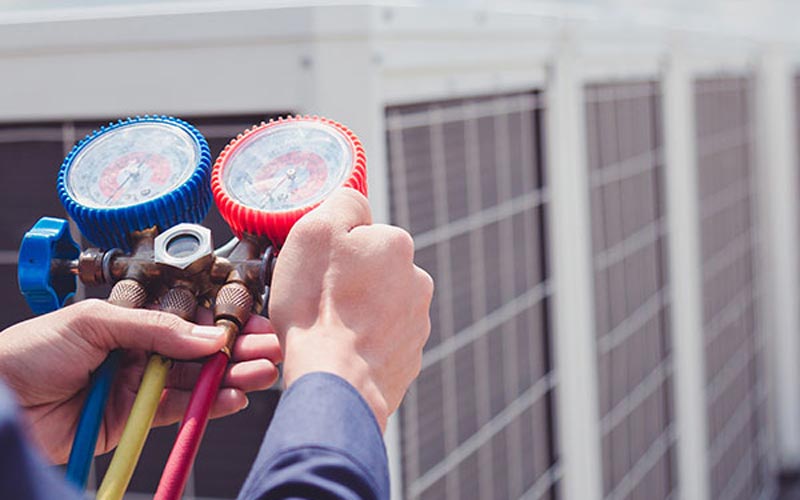 The Importance of Regular Service and Repair
Regular service and repair for unit heaters are vital for several reasons. Firstly, it helps to maintain the efficiency of the system. Over time, dust and debris can accumulate in the unit, affecting its ability to generate heat effectively. By
scheduling regular service
, technicians can clean the internal components, ensuring proper airflow and efficient heat distribution. Additionally, routine service and repair can detect and address minor issues before they escalate into major problems, reducing the risk of sudden breakdowns and costly repairs.
Four Most Common Unit Heater Problems
Commercial unit heaters may experience one or more common problems that require professional attention and heater unit repair. Here are some of the most common issues:
Inadequate Heat Output - A faulty heating element or a clogged air filter often causes this.
Uneven Heating - When certain areas of the space are noticeably warmer than others, there could be improper unit placement or airflow obstructions.
Electrical Problems - This can result from a tripped circuit breaker or damaged wiring.
Unusual Noises - A rattling or squealing sound may indicate fan motor or blower wheel problems.
Triangle Environmental's Unit Heater Service and Repair Solutions
At Triangle Environmental, we provide comprehensive solutions for commercial unit heaters. Our processes include the following:
Professional Inspection and Diagnosis -

To ensure the accurate identification of the underlying problems and appropriate solutions

Thorough Cleaning and Maintenance -

To remove any dirt or debris that may negatively impact the unit's overall performance.

Component Repair or Replacement -

To restore the unit's functionality, if necessary.

System Optimization and Calibration -

To enhance efficient and precise temperature control.

Safety Checks and Testing -

To guarantee safety, identify potential hazards, and comply with industry standards.
Benefits of Hiring Triangle Environmental
Triangle Environmental provides high-quality services throughout the Chicagoland area. When you choose to hire our team, you can expect these significant benefits:
Extensive Experience - Our technicians have decades of experience working with various unit heaters types and brands, resulting in accurate diagnoses and effective repairs.
Timely Response - Our team understands that HVAC issues can be urgent. The team is dedicated to executing prompt service to minimize downtime and disruptions to your company.
Maintenance Plans - Our maintenance plans are created to meet your specific needs, including regular inspections, filter replacements, and system optimizations to keep your unit heater in top condition.
Trusted Service - With expertise and experience, we consistently deliver reliable and professional unit heater service and repairs. Our team strives to exceed customer expectations and provide excellent customer service.
Frequently Asked Questions About Unit Heater Service and Repair
How Can Triangle Environmental Help?