Commercial Refrigeration System Maintenance in Chicagoland
Refrigeration Expertise You Can Count On
When your commercial refrigeration equipment is performing correctly, you usually aren't thinking about what could happen if it suddenly fails. Understandably, it's difficult to remember to schedule regular maintenance on your refrigerators and freezers until it's too late. Triangle Environmental is the source you can depend on for efficient, cost-effective maintenance to keep your refrigeration systems flawlessly reliable. Our technicians are industry professionals with decades of combined experience that have serviced refrigeration systems for reputable Chicago businesses since 1983. Get in touch with us today to discover the value of our refrigeration maintenance program.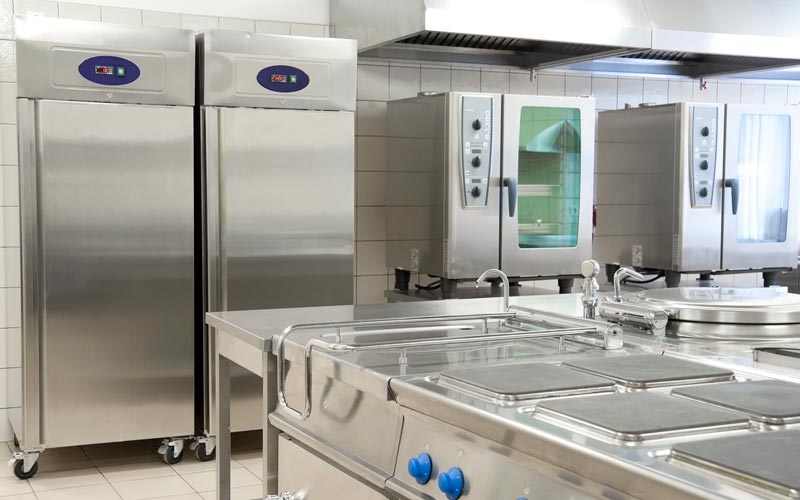 Gain the Benefits of Routine Refrigeration Maintenance
We understand your refrigeration systems are fundamental to your business operations. When you partner with Triangle Environmental, you'll have the reassurance knowing you'll have industry experts highly trained and committed to maintaining the performance of your equipment. Implementing a regular maintenance schedule from Triangle Environmental will provide you with many favorable benefits to support the integrity of your refrigeration systems, including:
Reduced Energy Costs: Preventative maintenance will discover issues like clogged drained lines or loose seals that could be negatively impacting your efficiency and rising energy costs.
Extended Equipment Lifespan: Routine maintenance will keep your equipment operating at peak performance and allow it to work for many more years.
Improved Food Safety: A properly functioning refrigeration system ensures better food and beverage quality and prevents the growth of bacteria and mold.
Decreased Risk of Emergency Repairs: A refrigerator or freezer that is well maintained is much less likely to suddenly stop working, preventing untimely and costly emergency repairs.
Tips to Maintain Your Refrigeration Equipment
Regularly Clean Surfaces Inside and Out
Cleaning your equipment's interior and exterior on a routine basis is the easiest way to maintain a quality system. A simple soap or vinegar solution combined with a soft brush every other week is perfect for cleaning the surfaces of your equipment inside and out.
Clean the Condenser Coil
The coils of your refrigerator are some of the most essential parts when it comes to keeping items cold. Over time, dust and dirt can build up on the coils of the fridge, hindering the refrigeration process. It is recommended that you clean the coils once every three months. Dirt and dust accumulation can make it difficult for your equipment to regulate temperature and even cause overheating and component failure. Using a bristle brush to remove debris is usually the simplest approach, but you can go above and beyond by using a vacuum or compressed air to clear out any remaining debris.
Keep the Evaporator Coil Area Clean
When warm air passes through the refrigeration system, the evaporator coil helps absorb heat to keep the interior at an optimally cool temperature. The surrounding area of the evaporator coil should be kept clean and clear of any debris that would make heat absorption difficult. Ensure vent airflow isn't blocked by items you place in the refrigerator, which can cause the coil to freeze, leading to water leaks and rising temperatures.
Routinely Check the Door Gaskets
The gasket is the rubber lining around the door that keeps the refrigerator sealed properly and the interior temperature accurately regulated. To prevent cold air from escaping, make sure to check for any splits or cracks in the gasket. If the gasket is broken in any way, it's essential to have it replaced with a new one. Cleaning the gasket is another recommended step in maintaining the integrity of your refrigerator to prevent wear and tear from occurring over time.
Check the Air Filters
Dust buildup and grease from nearby fryers and griddles can affect your refrigerator's air filters and lead to improper ventilation, so routine cleanings of them are an essential step in maintaining your equipment. You can remove debris and dust with a shop vacuum and use a degreasing solution to eliminate grease buildup.
Clean Drain Pans and Tubes
Commercial refrigerators experience a lot of daily activity and attract grime and sludge. Your refrigerator's drain pan and tubing can get affected by grime buildup, so it's important to ensure you clean out these elements of your equipment. You should clean the drain pan with a simple soap or vinegar solution at least once a month and clear out the tubing from any blockages with soap and water every couple of months to prevent overflows and other adverse effects.
Keep the Interior Dry
Not only should you clean up spills immediately for sanitation purposes, but too much moisture accumulation can lead to unnecessary freezing over time. Check for moisture buildups and make sure shelving and other surfaces remain dry.
Additional Refrigeration Equipment Tips
Here are some additional tips for monitoring and maintaining your refrigeration equipment:
Keep an eye on temperature regulation and monitor cycling patterns
Check the refrigerant level on a regular basis
Ensure electrical connections are properly attached
Confirm the thermometer's temperature accuracy
Flush out the water circuit with a descaling solution
The Triangle Environmental Advantage
Taking the time to maintain your equipment can be a lot of work. Luckily, the expert refrigeration technicians at Triangle Environmental are dedicated to helping our customers keep up with proper refrigeration equipment maintenance. Preventative maintenance is the easiest way to ensure the long-lasting performance of your equipment, as well as efficiency in your overall operations. When you schedule routine refrigeration maintenance with Triangle, you won't need to worry about costly and untimely emergency service repairs.
Don't leave the condition of your equipment to chance. Get in touch with us today to learn more about our commercial refrigeration maintenance program and discover why we've been a highly regarded refrigeration services contractor for over three decades.